Introduction
Recently, MistyWest hosted a webinar on the Dark Side of Technology where we talked about the ethical implications society is currently facing as new technologies are developed. The conversation touched on issues like data sovereignty, (un)biased machine learning, and the increase in civilian/private access to technology previously only available to the military.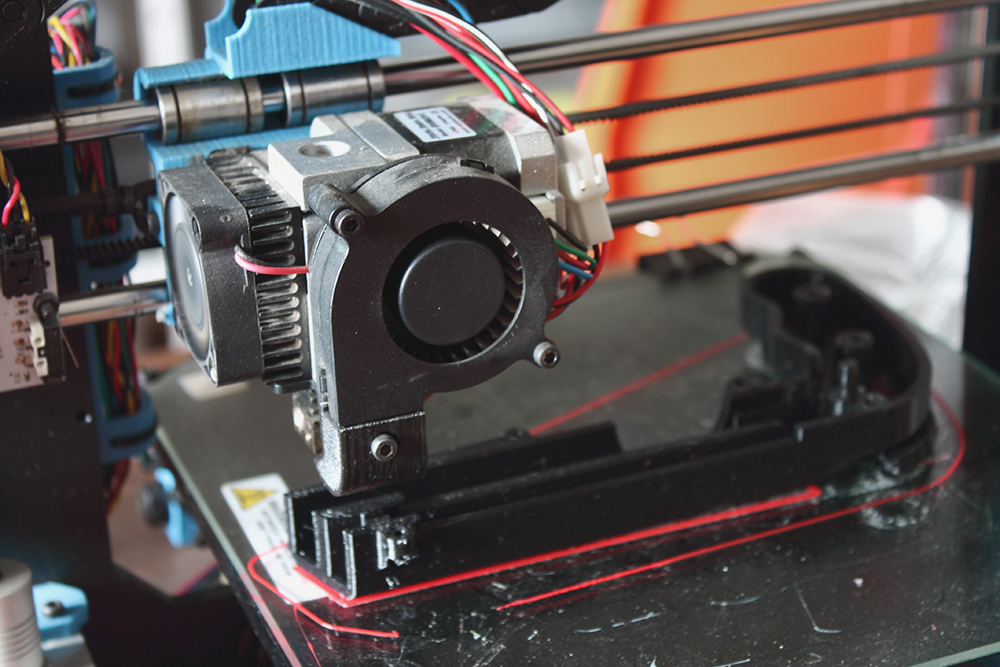 When we discussed how humanity's occasional abuse of technology is a manifestation of our darkest selves, and how engineers try to account for how their inventions may be used for unethical purposes, Farheen Taquee, event moderator and a Project Manager at MistyWest, called attention to the MistyWest Ethics Review Process we apply when selecting new projects. This piqued the interest of our panelists and audience.
As the current Ethics Champion at MistyWest, and as an employee of a radically transparent organization, I wanted to share our process to anyone who is intrigued, and to empower other organizations who may be interested in applying it to their own practices. Please feel free to copy anything in here that you find useful.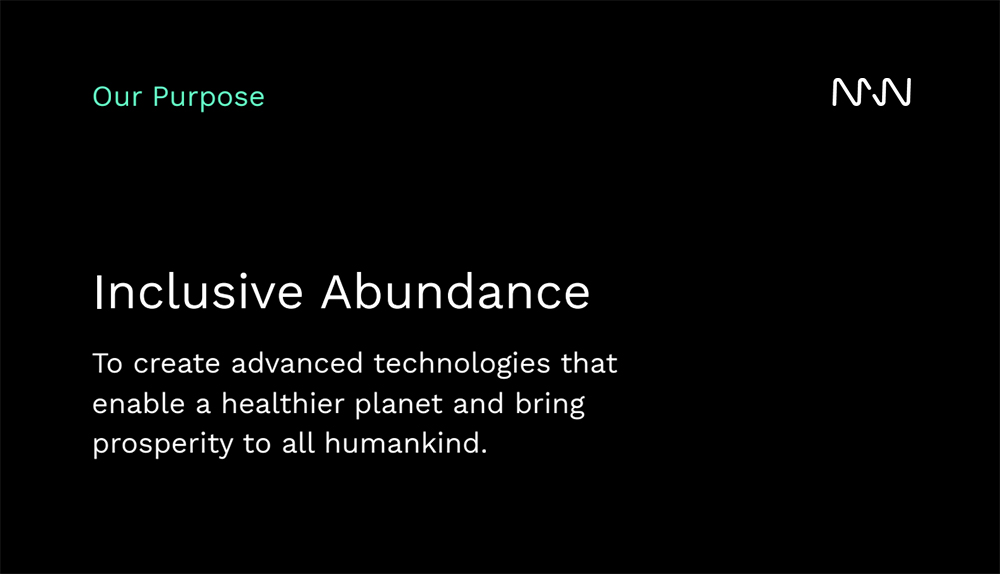 MistyWest strives to be a force for change
MistyWest's purpose is to create advanced technologies that enable a healthier planet and bring prosperity to all humankind. Creating positive impact for our well-being and the planet we humans inhabit has been the primary drive for the company since its inception, and has led us to work on an amazing range of projects, including  polar bear trackers for WWF, a handheld underwater sonar scanner, a diagnostic medical computer vision device, and many more we can't (yet) talk about.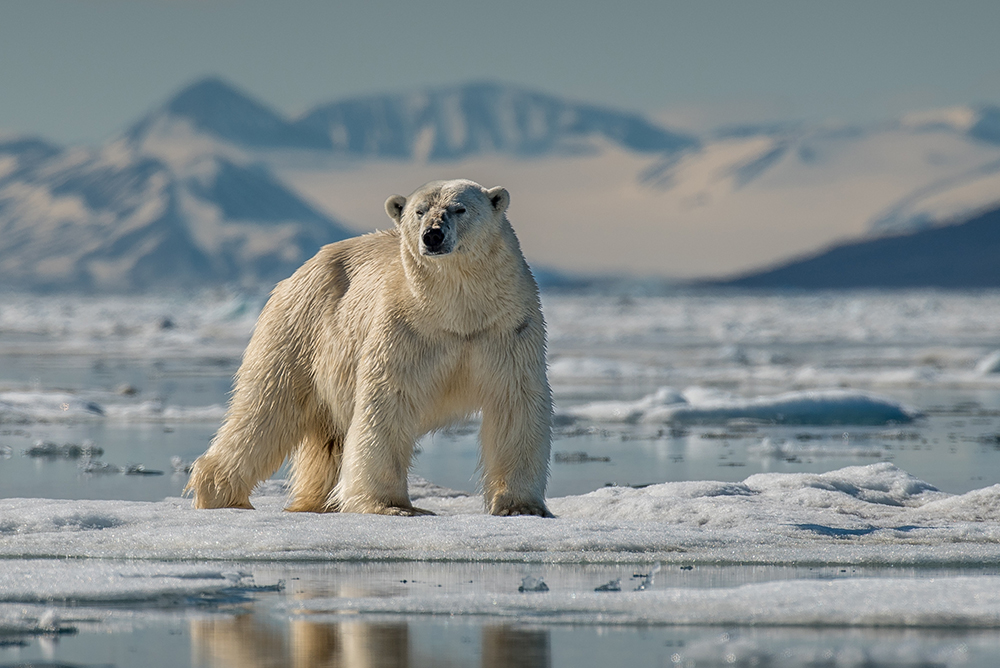 Just as important as creating a positive impact outside of MistyWest, we seek to build a supportive and healthy culture within MistyWest. One of our company values is to put people first, and that includes our team of Westies. Specifically, we seek to maximize employee agency and create an environment of radical transparency.
When we combine all three of the above efforts, we get the MistyWest Ethics Review Process. As a core tenant of MistyWest's workplace policies, every employee, regardless of their role, has the power to unilaterally veto a project for any ethical or moral objection.
The Ethics Review Process Overview
Every single new project at MistyWest goes through an ethical review. The process has multiple phases, and most projects are deemed to have passed after phase two. Figure 1 offers a brief summary, and we've detailed it below.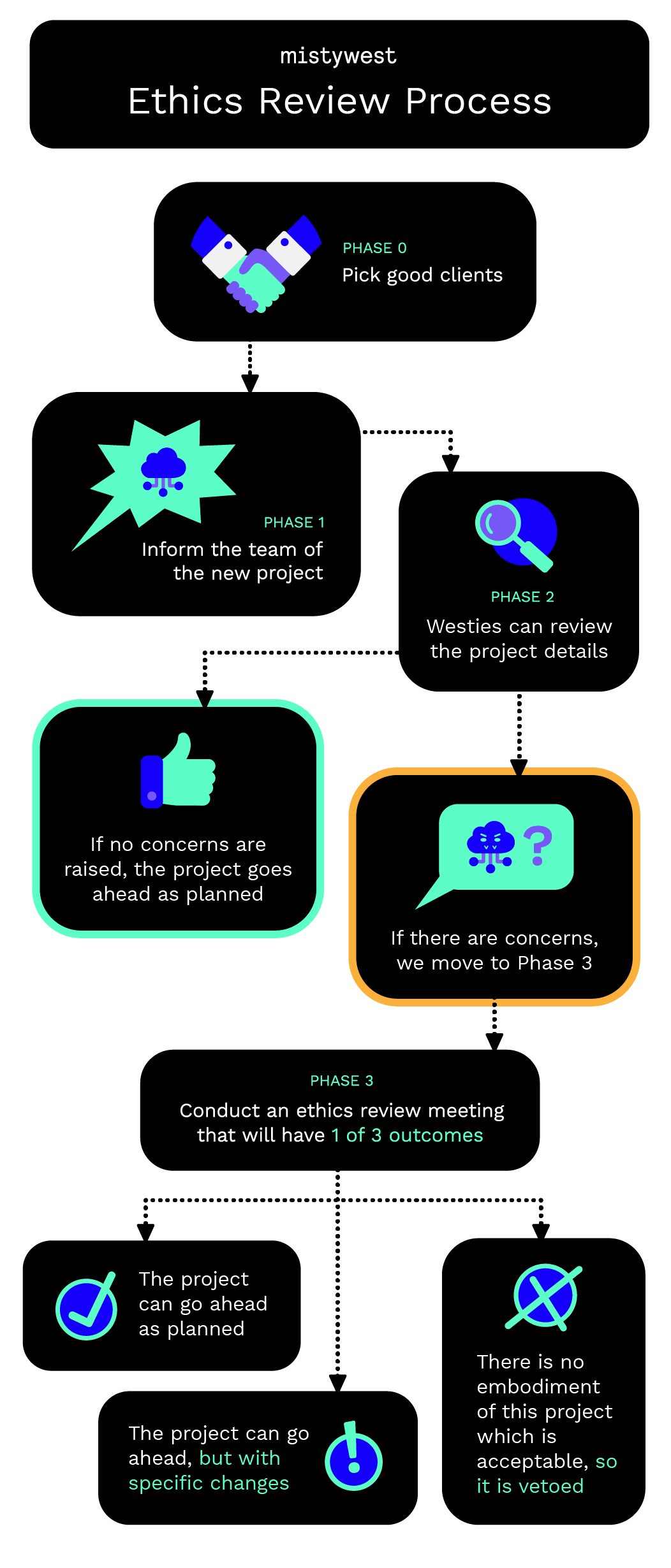 Phase 0: Pick good clients
Everyone at MistyWest signed up to be part of a company that is building a more inclusively abundant future. Therefore, the business development team at MistyWest only develops projects that align with the Mission of MistyWest.
Phase 1: Inform the team of the new project
The Business Developer responsible for the new project posts the key details for each project in a Slack post, and the entire company is notified that a new project is up for ethics review. This will include background information on the proposed client, any expected positive impacts and any potential negative impacts.
This step is required before the Business Developer can ask engineers to estimate projects – we even have a stage in our sales funnel labeled "Ethics Hold" which projects can't move past until the project has been communicated to the whole company.
Phase 2: Offer a high-level review
Everyone at MistyWest has the opportunity to review the posting and raise any ethical concern, or request more information to make an informed decision. If there are no ethical objections raised, we move forward with scoping the project.
If an ethical concern is raised, then an Ethics Review Meeting is scheduled.
Phase 3: Ethics Review Meeting
The Ethics Review Meeting is where Westies can exercise their veto power. The overarching principle is that nobody may obstruct another person's veto, but you must be open to hearing conflicting opinions. During the meeting, we roughly follow the Integrated Decision Making Process (IDM), but with a slight twist. The outcomes of this meeting will be one of three options:
The project can go ahead as planned
The project can go ahead but with specific changes, or
There is no embodiment of this project which is acceptable, and it is vetoed.
The Ethics Review Session
MistyWest has tried a few different formats for its Ethics Review Meetings. The current embodiment borrows from the Integrated Decision Making Process from Holacracy Governance meetings and repackages it for the purpose of assessing the ethical concerns of a project. The Ethics Champion (myself, currently) is responsible for scheduling the meeting and facilitating the meeting (or finding a suitable facilitator). The project's Business Developer and the Westies who raised ethical concerns must attend; all other Westies are invited to attend if they would like. The session process is outlined in Figure 2 below, or you can view it here.
The time this meeting takes is highly variable; our most recent Ethical Review Meeting took approximately 2 hours.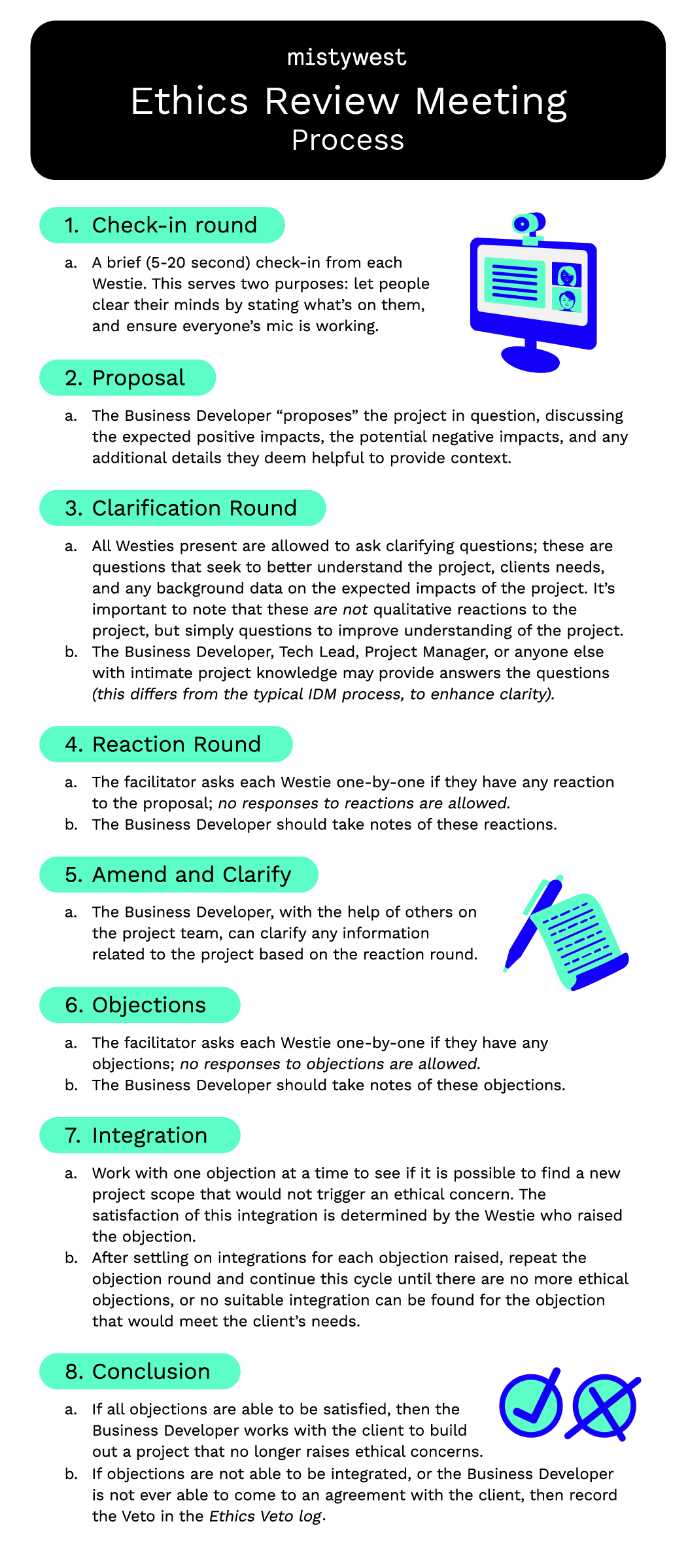 The cost of being ethical
This process is not without its costs. This past summer we ultimately vetoed a project which had the potential to have a large positive impact in the world, while providing our engineers with exciting technical challenges and the company with significant revenue. However, in the end, privacy concerns related to the project were too great and the potential for misuse of the technology was beyond what we were comfortable with accepting. We revised the scope of the project to better align with our ethics and values, but ultimately, it did not align with our prospective client's company vision.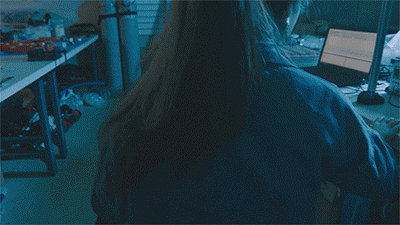 Our veto policy is one embodiment of our culture which generates amazing employee engagement – each of us literally holds the path the company takes in our hands. It gives our Business Developer clear boundaries on what not to pursue, saving valuable time we can apply to finding projects that our team will be excited to work on and feel good about working on too. Despite the additional overhead costs of running a two hour, company-wide meeting (attendance optional), the benefits massively outweigh the financial impacts to our bottom line. This policy should mean MistyWest is continuously checking itself; preventing us from falling into the dark side of tech.
Would your organization benefit from an ethics review process like this? You can reach out to me, Dan Millar, at [email protected] to learn more about how we integrate it into our business practice.